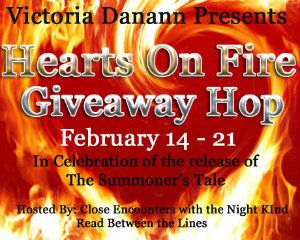 I found this series by pure luck at my local book store and gave it a try. With witches, demons, delicious Fae warriors…this book has action, passion and a great story line. I had a hard time putting it down, luckily I bought book 2 at the same time. Silver is my kind of chick with her attitude, strong willed, and a born leader. This book is written in different POV so you know what is going on with everyone and I thought it was well written, descriptive and I was taken over by Silver and Hawk from the beginning. Each book in the series is written about a different coven witch and love with the underlying story going on through each book. So I would recommend reading them in order. There are a total of 6 books, one being a short story in an anthology with 2 other authors being book 3.5.
Cheyenne McCray has many books to choose from depending out what you like; she even has a Cowboy series that looks pretty yummy. Be sure to check out her Stalker links below!!
So since today is Valentine's Day I would like to show a little love and share this book with someone. One lucky winner will win a paperback copy of Forbidden Magic by Cheyenne McCray. Just fill out the Raffelcopter below and Good Luck!
Cheyenne McCray's paranormal romances seduce with an award-winning combination of heat and fantasy. Now, she weaves the first tale in an enthralling new series sizzling with dark magic and dangerous desires. Prepare to be spellbound by Forbidden Magic...
D'Anu witch Silver Ashcroft knows she walks a perilous line by practicing gray magic. But it's the only way to protect herself from the evil that surrounds her. After the horrors she has witnessed, Silver thinks she is ready for anything...until the most intensely arousing being she has ever encountered swiftly--and sensuously--proves her wrong...
Hawk is a Tuatha D'Danann warrior--powerful beings descended from the Fae. And for him duty has always come before pleasure. Then, clad only in moonlight, Silver Ashcroft welcomes him to her city of San Francisco and makes his blood sing with a passion beyond compare. She is the embodiment of fantasies he never knew he had, but the terrifying reality of his mission lurks in every shadow...
Only the strongest will survive the upcoming battle, and the forces of darkness are more powerful than ever. Now, warrior and witch must trust in their hearts above all else--for to claim victory, they first must claim each other...
"New York Times" and "USA Today" bestselling author Cheyenne McCray is the author of the "Night Tracker" series. ZOMBIES SOLD SEPARATELY is due out June 2011 and VAMPIRES DEAD AHEAD fall 2011.
New York Times and USA Today bestselling Author Cheyenne McCray's books have received multiple awards and nominations.
Cheyenne grew up on a ranch in southeastern Arizona. She has been writing ever since she can remember, back to her kindergarten days when she penned her first poem. She always knew one day she would write novels, hoping her readers would get lost in the worlds she created, just as she experienced when she read some of her favorite books.
Chey has three sons, two dogs, and is an Arizona native who loves the desert, the sunshine, and the beautiful sunsets.
Chyenne on Amazon

**Enter your name and email in the giveaway below and click begin to enter**
A SUMMONER'S TALE: the vampire's confessor
978-1-933320-67-0 ebook W
ords: 107,000
978-1-933320-80-9 print
Pages: 350
GENRE: vampire romance, paranormal romance, urban fantasy, paranormal fantasy
RELEASE DATE: February 14, 2013
This is the third installment in a serial saga intended to be read in order.
DESCRIPTION:
A secret society, a witch, a psychic, vampires, modern day knights, heroes, elves, fae, assassins from another dimension, and fairytales come together where emotions intersect. Two souls, joined by a mystical bond, separated by distance, must simultaneously struggle through pain and darkness in an ultimate confrontation with character and an ultimate struggle for life proving that true love waits patiently through lifetimes and finds courage to survive. Even in the strangest places. Even when you're least expecting it. Even when you're far, far from home.
Erotic quotient: A little steam. No menage. No BDSM.
IMPORTANT: Black Swan Books 2 and 3 are available on Amazon.com exclusively as single titles. H
owever, a
The Order of the Black Swan COLLECTED TALES, Books 1-3
will also be released on or around Feb. 14th in e-book everywhere.
This is the story as it was intended to be read - without interruption.
ISBN:
978-1-933320-70-0 313,000 words All three books for $6.99.
For the past fourteen years, Victoria has illustrated and authored Seasons of the Witch calendars and planners and written several non-fiction books on magickal arts. She lives in a town north of Houston known as The Woodlands even though the idea of the witch in the woods may be a
cliché
.
She owns 7th House Publishing and contributes to its enterprises. In addition to art and writing, she plays Classic Rock music (keys, rhythm guitar, vocals) and manages one of Houston's premier party bands. Married. Four children.
The grandprize list is
: 1.) Two Kindle Paperwhites, 2.) Three sets of Black Swan: Books 1-3 paperbacks signed by Victoria Danann (1 and 2 being US only) 3.) twenty sets of Black Swan: Books 1-3 e-books and 4.( $60 choice giftcard
..The Kindle Paperwhites also come with a book package, as well as the giftcard. The following authors have donated their books and should be included in the post:
Read 2 Review (Kate) and GMTA UK: (5 to 10 books that will be announced)
Danica Avet Winners: choice of backlist
Airicka Phoenix: E-copy of Games of Fire, Touching Smoke, & Touching Eternity
Katie Salidas: E-copy of Moonlight and Sweet Surprises! By her and Willsin Rowe which also releases on Feb 14!
Sara Trimble: E-copy of A Woman's Revenge
Michelle Graham: E-copy of Landing the Big Ones
Kim Mullican: Yoder's Farm, Taking Control (Book 1 Control Series),Control (Book 2 Control Series), Immortal Decision
Cambria Hebert: Ecopy of Recalled and a Winners Choice from the Heven and Hell Series Ecopy
M.L. Stephens: Ecopy of Love You More
J Kelly Acinni: 5 sets of paperback copies of Baby and Echo US only
Susan Griscom: Reflections and Whisper Cape
And a big thank you to: Dani-Lyn Alexander, Lisa Simington, Kym Grosso, and Liberty Ann for making the giftcard possible!!!
a Rafflecopter giveaway